Hey! Don't want to book online?
I would be more than happy to speak with you directly
& answer any questions you may have.
ARE YOU PLANNING A BIRTHDAY PARTY IN ARKANSAS?

I CAN HELP YOU!
ARKANSAS CHILDREN & FAMILY ENTERTAINMENT EXPERT
This website is for birthday party entertainment inquiries only.
If you're planning a different type of event, please click here.
Check Out My Awesome Kid's Birthday Magic Show!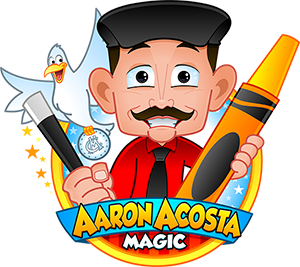 My show is full of high-energy magic, visual slapstick comedy, and lots of audience interaction! The show delivers a performance unlike any other and makes your child the star!
I also offer creative balloon animals, not just dogs. I can make hats and all sorts of cool stuff. The show is not just 3 or 4 magic tricks. You will get several mystifying, mind-blowing illusions. Tricks with a real Bird, ropes, silks, coins, & newspapers.
Complete with audience involvement, the children's eyes will light up when the bird appears from nowhere. The birthday child gets to come up and help out with some of the magic, they will be in the finale with me making them the star of the show (picture perfect moment). I have routines set up for all age ranges.
The Magic show is equal parts entertaining and impressive for both kids and kids at heart. So you can rest assured that all of your guests will enjoy the show and make for an incredibly successful event!
More than just a magic show. . . When you book one of my magic shows, I provide you with a party planning guide, printable party invites, RSVP list & printable magic themed decorations. . . All the tools you need to host a great party that's stress-free! To help you save time & money, I also offer party extras such as goodie bags, & magic kits.
WHAT MY CUSTOMERS ARE SAYING
"Anyone that is interested in having him perform a show will definitely enjoy it! We had him perform for our daycare children and their parents and we all loved it! It's very interactive and even I still can't figure out his trick. You will definitely enjoy the show!"

Faydra M.

Owner at Daycare
"If you're considering hiring him, stop considering and just DO IT! He is a wonderful performer! He performed at my 6 year old daughters party and the kids and adults LOVED it!!!! Worth every penny! "

Mari-Lynn A.C.

Parent
My son's birthday is in the winter so it's kind of hard to do things with him. We wanted to do something different this year.. instead of the regular house party, pizza, bowling etc so we decided to do a Magical Batman Birthday Party (since he love batman) with a magician & I must admit I was a little concerned at first because hiring a magician can be costly but I must say that I'm so happy that with decided to go with Aaron Acosta as the entertainment because he was awesome…everyone loved him including the adults. My son & the oher children just keep talking about the magic show & balloon animals.. So if you're looking for a great magician who's going to give you your money worth then look no further because Aaron is the guy!!! #HeRock #AwesomeShow

TaShima Jackson

Parent
FREQUENTLY ASKED QUESTIONS
What forms of payment do you accept?

Cash, PayPal, & all Credit or Debit Cards
How much space do you need?
Not Much At All.
Usually, a 5 x5 area is plenty of room. Usually, your living room is a perfect place for this. Other than that, an area right in front of the children to sit and enjoy the show is all that is needed.
Where ever you have the most open space is best.
I have never been in a place where I couldn't perform due to space constraints. I'm very flexible and easy to work with.
Is the show clean and age appropriate?
Yes! I take pride in that my show is specifically geared towards children and will be age appropriate. Most magicians don't have an age specific show. I specialize in entertaining children with clean and fun magic.
When's a good time to have you begin your show?
I recommend starting the Magic show 30 minutes after the party starts this gives all the guest time to arrive so no one is late. So if the magic show is to start at 11 am then you should have the guest arrive at 10:30 am.
How far do you travel?
I travel all over, I am located in central Arkansas but travel the entire state and I also travel to surrounding states too.
How far in advance should I book?
I am fortunate enough to be a very busy & popular entertainer. Performing at hundreds of Children's birthday parties every year!
Please contact me first before arranging your party date/time & booking your venue, as you may need to be flexible to secure my services.
Most of my shows are booked months in advance. However; last minute bookings may be available.
How much do you charge?
I offer a couple different package to choose from for my party entertainment.
You can get all my package & pricing information by clicking here.
Do you require a deposit?
Yes. A $50 non-refundable deposit is required to confirm your booking.
When should I serve food and cake during the party?
My recommendation is to not serve any food or drinks during the magic show to minimize distractions. How ever this is just a recommendation and can be handled how you feel is best.
Do you need a table or anything from me?
I will not need any tables or anything. When you hire me I come with everything that is needed to perform an outstanding show. I will bring all the tables, sound system and everything needed for me.
100% SATISFACTION GUARANTEE
I guarantee I will arrive early, put on amazing a show, keep the kids actively engaged and entertained thru out the entire show. If I don't deliver on all my promises, if the children weren't laughing and having a great time or if you weren't happy with the entertainment I provided, then the show is free.
ABOUT ME
Hi I'm Aaron Acosta - A professional Magician, I'm a multi-award winning Magician from Arkansas and Memphis. I specialize in children and family entertainment.
I fell in love with magic when I was 8 years old with a book out of the library. Since then I have been learning and sharing my passion with everyone.
I perform hundreds of shows for children every year at b

irthday parties, Preschools, Daycares, Libraries, Schools, Fairs & Festivals, and

 all types of family events. Magic is my passion and obsession and I am thrilled that my job allows me to share this joy with children of all ages, leaving them with laughter and enjoyment at every show.